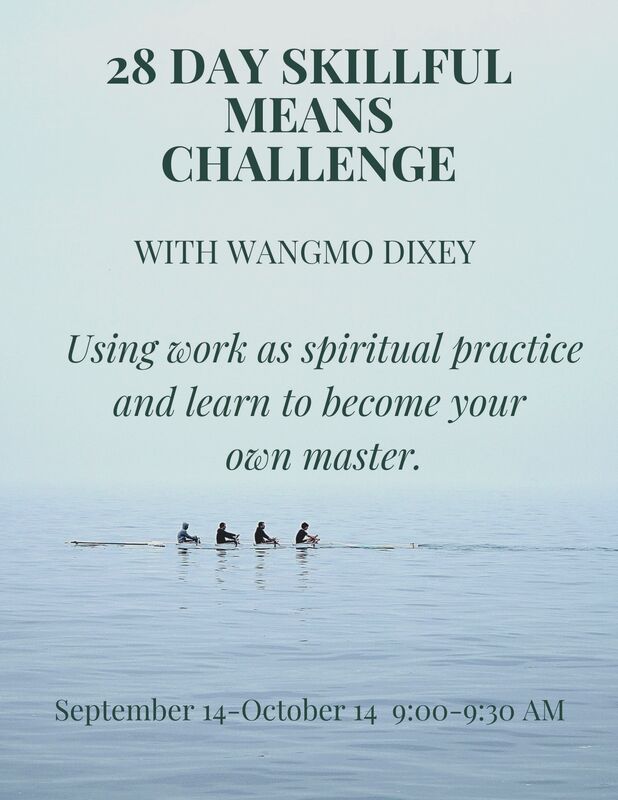 Skillful Means 28 Days Challenge (Fall Term)
We will be using the Skillful Means 28-day challenge along with inspirations from Mastering Successful Work and Caring book. This class is for anyone wanting to set priorities for the week with a focus on concentration and setting goals for the month. It will build the inner confidence required to get a job/task or challenge completed. It is also a precious opportunity to recognize how we can use work as our spiritual practice. The class meets this Fall from Monday-Friday and meets for only 30 minutes a day.
You will be asked to identify a unique project that you would like to bring focus so that we can work through it as a live example of work as practice. Should there be obstacles and challenges that come up in the day, we will use this an opportunity to transform them into areas for discovery and exploration.
You will be given a copy of the Skillful Means challenge workbook. All Coworkers with Wisdom will be invited into this challenge as a complimentary class along with the workbook.
"The time for choosing knowledge and awareness is now."
This class will help you to sustain and increase growing strength and confidence and will support accomplishment. It is a valuable tool to bring vision, fresh ideas, and insight into your daily life. By cultivating awareness, concentration, and energy, you will touch the integrity of your own being and take control of your life.
Work teaches us to cultivate the roots of our knowledge in an organic way that fosters the continuing growth of understanding and brings it to maturity. When we know how to use work in this way, we can nourish and enjoy ourselves in any situation, like a great chef creating delicious meals from all kinds of foods.
We will be working within a zoom format so anyone can join. It is just 30 minutes and we get a lot done and work towards getting your goals realized. We connect to each other through sharing our experience of work.
https://dharma-college.corsizio.com/c/5efe6b3c93a846991fa59d37